Illinois Airports
Code
Belleville - Mid America Airport
MidAmerica St. Louis Airport 9656 Air Terminal Drive, Suite 100. Mascoutah, IL 62258 (St. Clair County, Illinois)


BLV
Bloomington - Central Illinois Regional Airport
3201 CIRA Drive, Bloomington, IL 61704 (McLean County)


BMI
Central Illinois Regional Airport
3201 CIRA Drive, Bloomington, IL 61704 (McLean County)

CIRA
Chicago Meigs Field
"At midnight, March 30-31, 2003, illegally and without notice,
Chicago's Mayor Daley demolished the best-known single runway airport on the planet: Meigs Field."


CGX
Gary-Chicago International Airport
6001 West Industrial Hwy, Gary IN 46406 (Indiana Airports)


GYY

Chicago O'hare Intl. Airport
10000 Bessie Colman Drive, Chicago IL 60666 (Cook, DuPage Counties)


ORD
Decatur Airport
910 S. Airport Rd. • Decatur, IL 62521 (Macon County)


DEC
Greater Kankakee Airport
813 A East 4000 South Rd., Kankakee, IL 60901 (Kankakee County)


IKK
Greater Rockford Airport
2 Airport Circle, Rockford IL 61109 (Winnebago County)


RFD
Midway International Airport
5700 South Cicero Avenue, Chicago, Illinois 60638 (Cook, DuPage Counties)


MDW

Moline - Quad City Intl. Airport
2200 69th Ave. Moline, Illinois 61265 (Rock Island County)


MLI
Peoria Regional Airport
6100 W. Everett McKinley Dirksen Parkway, Peoria, IL 61607 (Peoria County)


PIA
Quincy Regional Airport (Baldwin Field)
1645 Highway 104, Quincy, IL 62305 (Adams County)


KUIN
Springfield Capital Airport
Abraham Lincoln Capital Airport (ALCA)
1200 Capital Airport Drive, Springfield, Illinois 62707 (Sangamon County)
*Abraham Lincoln Capital Airport (IATA: SPI, ICAO: KSPI, FAA LID: SPI) is a joint civil-military public airport in Sangamon County, Illinois

SPI
University Of Illinois Willard Airport
Champaign/Urbana, Illinois

CMI
Williamson County Regional Airport
10400 Terminal Dr, Marion, IL 62959 (Williamson County)

KMWA


Chicago Department of Aviation






| | |
| --- | --- |
| | Flight Delays: (FAA) Flight Delay Information. You can also check for flight delays at your airlines website |



















USA Airports

,

Major US Airlines

Nationwide Airports Directory and direct links to Major US Airlines.

Note: The following links will open a new browser window in case you want to view airports in multiple states without losing this page.

Alabama

,

Alaska

,

Arizona

,

Arkansas

,

California

,

Colorado

,

Connecticut

,

Delaware

,

Florida

,

Georgia

,

Hawaii

,

Idaho

,

Illinois

,

Indiana

,

Iowa

,

Kansas

,

Kentucky

,

Louisiana

,

Maine

,

Maryland

,

Massachusetts

,

Michigan

,

Minnesota

,

Mississippi

,

Missouri

,

Montana

,

Nebraska

,

Nevada

,

New Hampshire

,

New Jersey

,

New Mexico

,

New York

,

North Carolina

,

North Dakota

,

Ohio

,

Oklahoma

,

Oregon

,

Pennsylvania

,

Rhode Island

,

South Carolina

,

South Dakota

,

Tennessee

,

Texas

,

Utah

,

Virginia

,

Washington

,

West Virginia

,

Wisconsin

,

Wyoming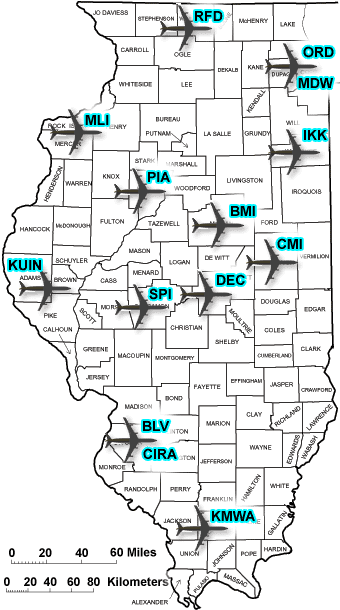 Car Rental: Up to 35% off when you reserve a car online with secure online reservations. Save while utilizing the coolest Car Rental Booking engine on the planet.


Flights: Up to 60% off your flight! Over 100 million airfare combinations including more than 20 million consolidator net fare options on over 400 airlines worldwide with savings up to 60%.



Hotels: Up to 50% off Hotel Reservations as popular locations worldwide. Access to more than 85,000 hotel properties in over 400 cities worldwide with savings up to 50%.