OfficialUSA.com is a human edited directory of U.S. Websites and has been online since 1997. Most USA websites are strictly data listings such as population and geographical data. This directory of directories is one you can use in everyday life, not just when writing a report. Here you will find nationwide, state, county, town, city and additional local listings. Browse by state above or select from the list of subject areas on the right.

Thank you for visiting!!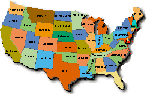 Please don't forget to bookmark.