Maine State Facts and Information
ME State Facts.

Maine is the easternmost state in the US and borders Canada. Scenic seacoast, beaches, lakes, mountains, and resorts make Maine a popular vacation desination. There are more than 2,500 lakes and 5,000 streams, plus more than 30 state parks to attract hunters, fishermen, skiers, and campers.
State Capital
Augusta


Largest City
Portland

Maine Public Records
Background, Birth, Death, Marriage, Divorce, Criminal, Court




Abbreviation:

ME



Counties:
Maine Counties
Towns & Cities:

Towns and Cities in Maine

Constitution:

23rd State -

March 15th, 1820

NickName:
The Pine Tree State
State Flower:
white pine cone and tassel
State Tree:
Eastern Whitepine
State Bird:
Black-capped Chickadee
State Fish:
landlocked salmon
State Animal:

Moose



State Mineral:
Tourmaline
State Cat:

Maine Coon Cat

State Insect:
honeybee
State Song:
"State of Maine Song"
Land Area:
33,265 sq. mi
Highest Point:
Mt. Katahdin

Lowest Point:
Sea Level at the Atlantic Ocean

Border States:
Massachusetts (S), New Hampshire (W/SW)

Area Codes:

207



More Information:
Maine State Guides and Directories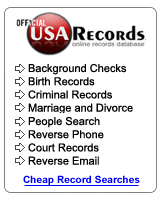 Blue Pages






Government Links
Maine

More Gov Links
Blue Pages: Agencies, Associations, Boards, Bureaus, Business and Economy, Centers, Commissions, Councils, Departments, Education (+Higher Edu; Colleges and Universities), Employment & Labor, Federal, Foundations, Government, History, Law, Legal, Justice, Legislative, Libraries, Offices, Organizations, Services, USA Gov Links









Facts:
Production of Paper, Wood Products, Low Bush Blueberries, Fishing, Seafood and Lobster.

Places of Interest:
Cadillac Mountain - Acadia National park is the Highest peak on the U.S. east coast.
Baxter State park in Maine's highland forests is great for camping, hiking and water skiing.